Today's episode of the Willpower Not Required podcast was all about the benefits (and some easy tips) to getting enough fiber in your diet. Check it out below if you missed it, then try out this quick and delicious high fiber Tex Mex Pasta Salad. It packs 60% of your recommended total daily intake of fiber!
High Fiber Tex Mex Pasta Salad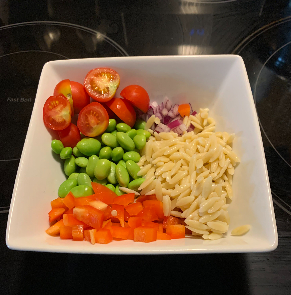 Total time 20 mins – serves 4
Ingredients
4 tablespoons of your favourite salsa
4 tablespoons plain greek yogurt
2 cups cherry tomatoes, halved
2 cups chopped red bell pepper
2 cups frozen shelled edamame thawed
2 cups cooked and cooled orzo, preferably whole-wheat
1/2 cup chopped red onion
1/4 cup shredded monterey jack cheese
salt & pepper to taste
Directions
Cook the orzo according to package directions then let cool.
While the pasta is cooking, whisk salsa and yogurt in a small bowl, set aside then chop tomatoes, bell pepper and onion.
Once everything is ready, combine tomatoes, bell pepper, edamame, orzo, onion, and cheese in a bowl. Add salt, pepper, and the salsa dressing; toss to combine. Season with hot sauce & salt and pepper to taste.
Divide into 4 bowls and enjoy!
Looking for more quick and healthy recipes? Find more on the blog here
Learn more about Fired Up Fitness and how we can help you achieve your health and fitness goals in the comfort and safety of your own home by clicking here
Make sure to subscribe and listen to my podcast Willpower Not Required for more tips and ideas you can add into your day to live your life to the fittest! Listen on all podcast platforms or watch on YouTube