How To Get Motivated & Inspired
I don't know about you but every year I get at least a little bit of the January blues.  It's right after the holiday season. The energy from the fresh start of the new year has waned. It's cold, dark and I often just feel blah.
Well this year so far has been particularly rough. My motivation to get up and go has definitely got up and left. I found myself this week sitting on my couch having my morning coffee and searching for the motivation and inspiration to get started on my overwhelming to-do list.
I started scrolling through my social media feeds looking for some inspiration. Some quote or advice that was going to pep me up. Well I came up empty there (actually to be honest, scrolling through social media was more de-motivating than anything but that's a story for another post). Next, I tried looking for apps, programs or books. Something I could download or buy that might give me a daily hit of inspiration or motivation to pull me out of my slump. That's when it hit me.  I don't know where it came from but it occurred to me that I was searching for motivation from strangers.  People who didn't know who I was or what was going on with me.
Motivation Is The Result Of Action
Then I remembered a quote I had read a while back that said "Motivation is the result of action".
There is the misconception that motivation comes from an external force like an inspirational quote or motivational video.  In reality, motivation actually comes after action.  Action, of any kind, creates momentum and it's that momentum that produces motivation and inspiration. Once you get started it's easier to continue.  
It's the starting that is the hard part.
Procrastination comes from waiting for motivation or inspiration to strike. It comes from waiting until you are in the mood to do something before getting started. If you are sitting around waiting for the motivation to workout, make a healthy meal or tackle your to-do list, you could be waiting around for a while.  Especially if you are already feeling weighed down by the blues like I was.
How To Start When You Don't Feel Motivated
Ok so how do you start then? First of all you need to make it easy to start.  
Take away as many barriers to action as possible
Save a few yoga videos on youtube and keep your mat next to the screen.
Have the ingredients on hand to make a quick healthy meal (check out episode 47 on making meals convenient).  If you have the right stuff on hand, it only takes a couple of mins to make a healthy snack or meal.
Have a few easy tasks on your to-do list.  If you know you need to work on a project, add "open laptop" and "sign into the software" to your to-do list.
Create a ritual or schedule to get you going
The motivation for a morning workout will probably be hard to find on a day when it's dark and cold and you didn't sleep great the night before. However if you have the workout scheduled in your calendar and you create a ritual of putting your workout clothes on as soon as you get out of bed, the motivation to actually start that workout may be easier to find.
Create a ritual of brewing a cup of tea or coffee each time you need to sit down and start a report or project for work.
Whatever you are having a hard time getting motivated to do, try scheduling it into your day and create a routine around it. An action that creates a little momentum.
Just Do Something
This brings me to another way to get started.  What author Mark Manson calls the "Do Something Principle". When you don't feel motivated or inspired, just do something, anything and use the reaction to that action for motivation to continue.  
In the above examples, the 'something' was 'open the laptop and sign in to the software' or 'get up and make a cup of tea'.
If you don't feel motivated to workout just do one push up.  The action of doing just one push up will likely turn into at least a few more push ups or maybe a short workout. 
In my case, sitting on my couch, coffee in hand searching for motivation to tackle my to-do list.  I finished my coffee – because lets be honest coffee comes before action – then I got off the couch, did a few jumping jacks for energy and grabbed my to-do list. I picked the quickest task and knocked it off. Then continued on with my day.
I'll be honest it didn't lead to an energetic, highly motivated Lauren the next day but I did remember that once I got started I would feel better so that's what I did, i got started.
Motivation is one piece of an infinite loop. Action creates motivation, motivation creates, inspiration and inspiration creates more action.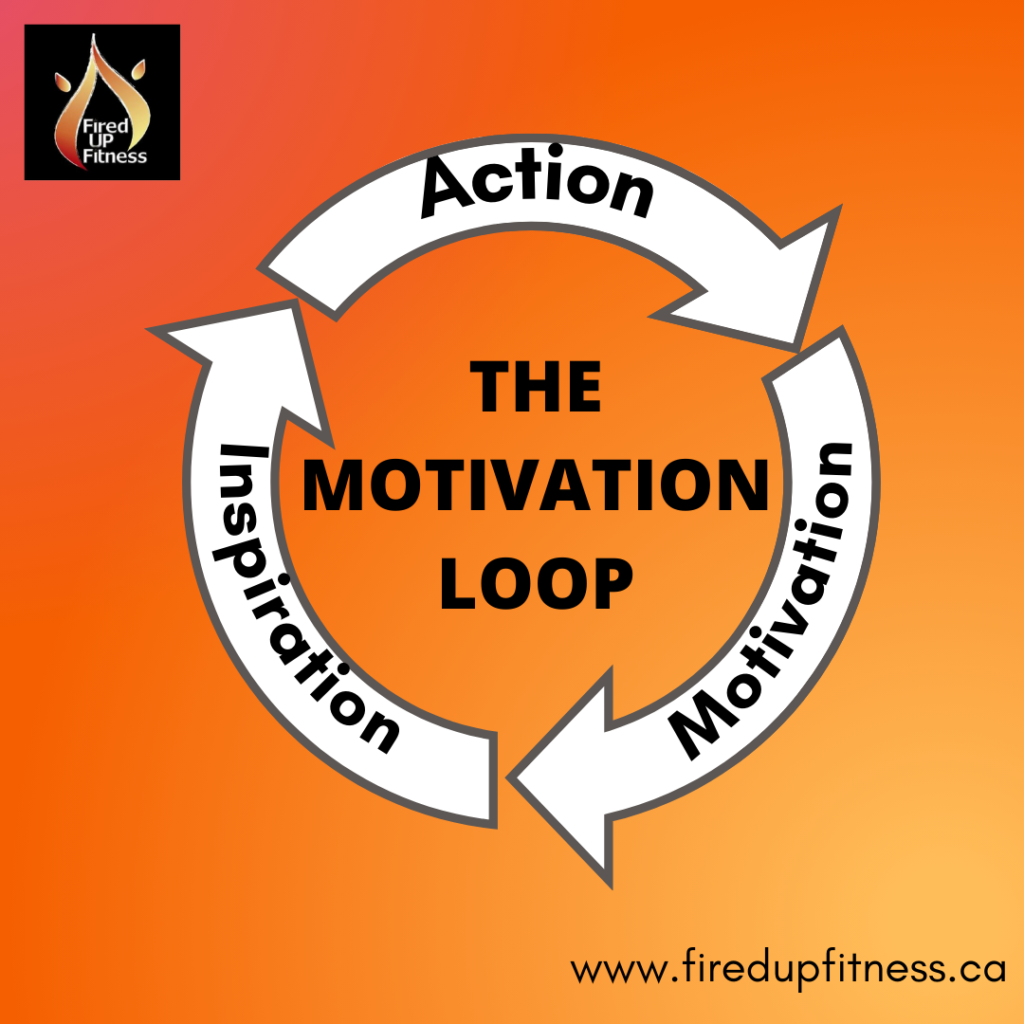 So if you find yourself like I was (feeling tired, a little blue and unmotivated) remember that the motivation is inside you at all times.   
Take action, no matter how small and notice how the motivation to continue starts to creep its way forward.
To paraphrase Newton's first law in physics : An object at rest tends to stay at rest while an object in motion tends to stay in motion. Start the motion. Inspire yourself into action
Discomfort is temporary. Remind yourself that on the other side of that action is the sense of accomplishment that will keep you in motion and moving towards those goals – willpower not required.
---
Are you looking for more tips to keep you motivated and on track to reach your goals, willpower not required? Listen to the podcast! Episodes are uploaded every Monday, Wednesday & Friday and are available on Apple Podcasts, Spotify, Google Podcasts, Pocket Casts and RadioPublic
You can also find videos of each episode on our YouTube channel
To find out more about what Fired Up Fitness has to offer and how we can help you safely and effectively reach your goals, check out our virtual & in-person services or contact us. We'd love to help!